41st Annual Banquet
Date Thursday, February 20, 2020
Location Victoria Country Club
Cocktails 6:00 p.m. - 6:30 p.m.
Dinner 6:45 p.m.
RSVP by February 14, 2020 to Nilda Reyna (361) 578-1502
Individual/Joint/Corporate/Life Members Only
Guests/Non-Members $50.00
Guest Speaker:
Joel A. Saldaña, Sr.
Retired DEA Special Agent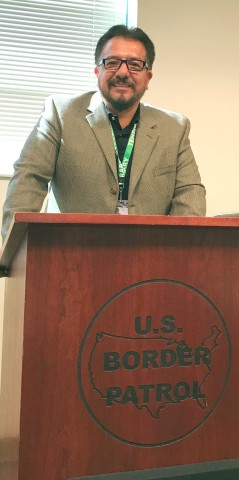 Instructor Joel A. Saldaña, Sr. is a retired DEA Special Agent. He started his law enforcement career with the United States Border Patrol in June 1986 in San Diego Sector, Chula Vista, California.
In 1996, he joined the Drug Enforcement Administration (DEA) in San Antonio, Texas and was assigned to the DEA/FBI Southwest Border Initiative Task Force Group. In 2003, he transferred with DEA to the U.S. Consulate in Monterrey, Mexico. He traveled extensively throughout Mexico and Central America working narcotic investigations with foreign and domestic agencies.
In 2009, he transferred to the Houston DEA Field Division where he worked in a HIDTA group consisting of the Harris County Sheriff's Office, Houston Police Department, Texas Department of Public Safety, Internal Revenue Service, and Homeland Security Investigations.
Mr. Saldaña retired in December of 2016. Joel was the lead undercover DEA Agent in hundreds of investigations in major U.S. cities which have led to the successful prosecutions of countless defendants. He also conducted undercover and surveillance operations in several Central American countries, such as Mexico, Nicaragua, Guatemala, Costa Rica, and Panama.
Mr. Saldaña holds a B.S. Degree in Criminal Justice from National University, San Diego, CA, an A.A. in General Studies and an A.S. in Administration of Justice from Southwestern College, Chula Vista, CA. Mr. Saldaña is a Certified DEA International Instructor and was a class advisor for Mexican vetted teams from the Agencia Federal de Investigaciones at the DEA Academy in Quantico. He assisted in the development of the undercover/surveillance course curriculum for AFI Agents. His areas of specialization include Undercover Operations, Surveillance, Expert Court Witness, Confidential Source Development, Human smuggling/Human trafficking, and Transnational Criminal Organizations.
Mr. Saldaña is a current adjunct instructor for St. Petersburg College, Center for Public Safety Innovation. Mr. Saldaña provides sporadic one day training courses on Transnational Criminal Organizations on behalf of the Multijurisdictional Counterdrug Task Force Training based in Florida. He has traveled to numerous cities throughout the country providing this training to local, state and federal law enforcement.
Mr. Saldaña also has his firm, JOMAR Security Consulting and Law Enforcement Training, registered as an LLC with the State of Texas. He has provided presentations and training classes for the following: Correctional Management Institute of Texas/Sam Houston University, Texas A&M San Antonio, Texas Narcotics Officers Association (TNOA), Texas Gang Investigators Association (TGIA), and Colorado Drug Investigators Association (CDIA).